Website traffic and redirect management system.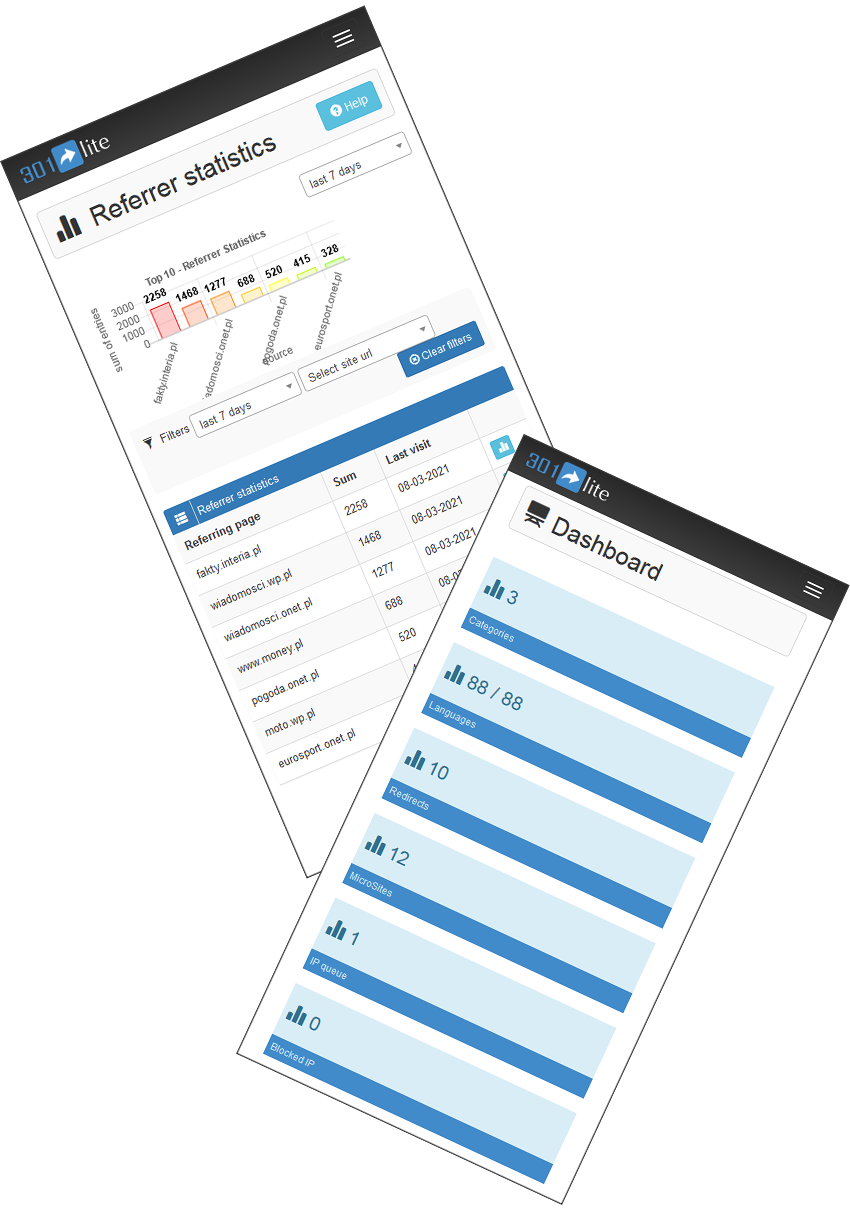 The 301lite system was created to facilitate the management of links and redirects from 1 place. The system is perfect for:
affiliate marketing
mailing
word of mouth marketing
creating short links (own link shortening system)
analyzing traffic
website positioning
advertising campaigns
managing links on the website (own domain shortcuts)
external and internal linking
creating landing pages
creating links for 301 redirects (creating pages then redirecting power to a specific website)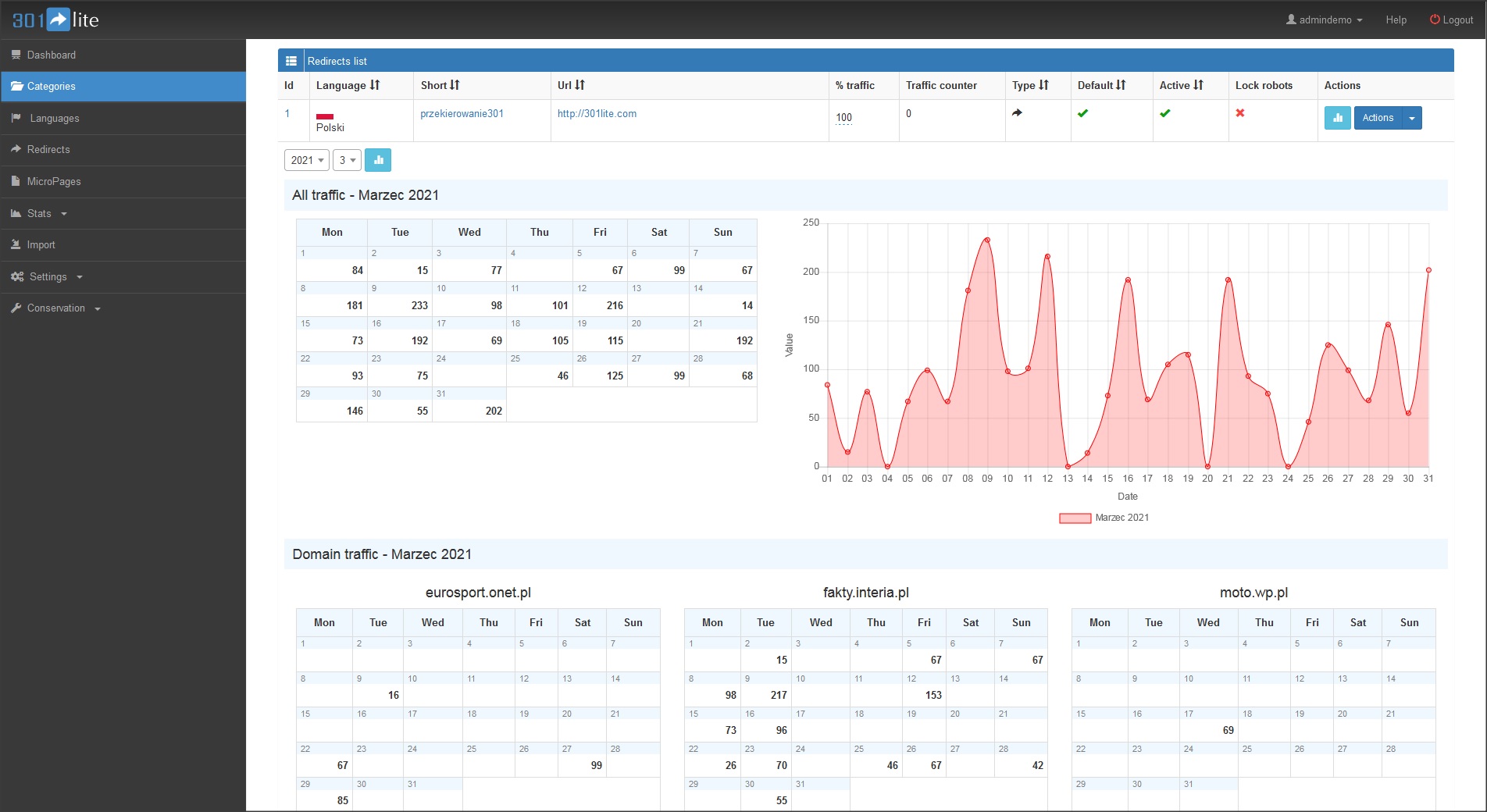 What can the 301lite system do?
Here are the most important advantages of the link and redirect management app.

Advanced internal and external statistics
The system has its own traffic statistics and the possibility of API integration with Matomo (former pint). Thanks to this solution, you can track very advanced statistical data of your links and shortcuts.

Ease to use
The system supports external and internal links, i.e. you can create links on any domain that will direct to a specific target link. The ease of using the system and creating links allows for quick and efficient redirection of traffic.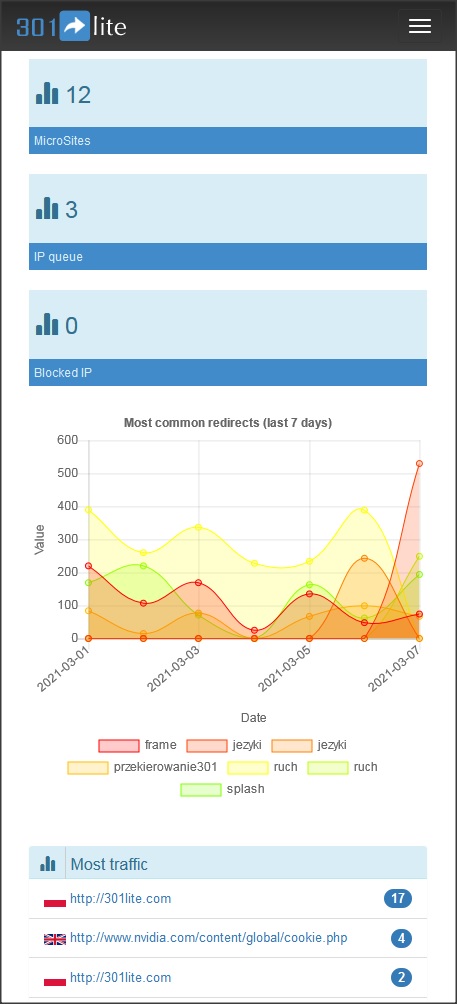 Efficiency
The application has a lot of useful functionalities and is very efficient. You can create your own categories, your own languages ​​and prepare your own shortcut names that will direct to a specific target link. Thanks to these functions, the system is simple but very functional.

Landing page
The system allows you to create your own landing pages. Thanks to this, we can prepare our own websites, which we then use to redirect to another specific page. Perfect for SEO and traffic redirection.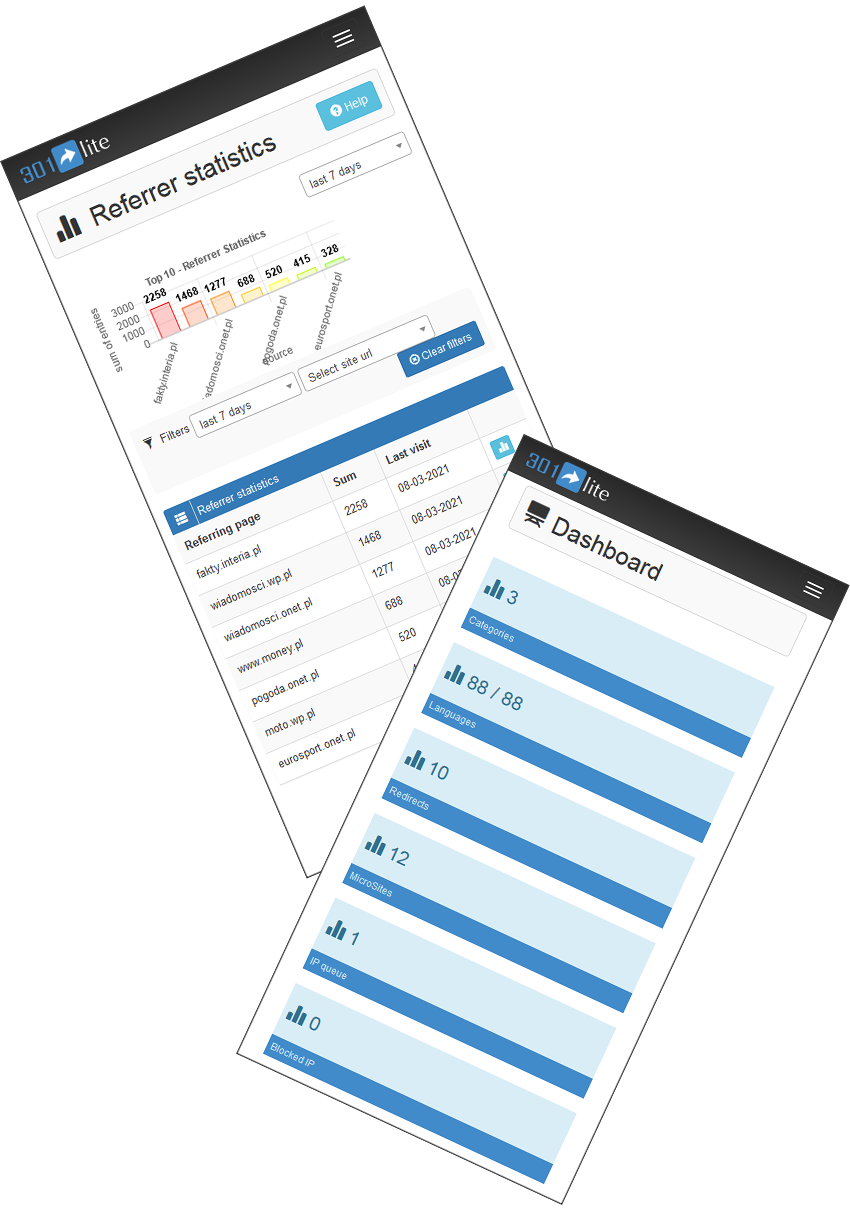 Manage multilingualism
If your site is visited by people from different countries or countries with many languages, you can set any language with any destination link.
Example.
You have a blog in Germany at "lubiekoty.de", you write an article about animal feeds and want to generate traffic in the partner system from EN, DE and ES, just add a link to the article "lubiekoty.de/r/karma", and in the 301lite system you will create links to appropriate languages, the system will recognize which language to choose for the visitor.
Detailed functionalities of the 301lite traffic and redirection management application

301 redirects (REDIRECT)
REDIRECT redirection consists in redirecting the visitor directly to the destination address.

"Frame" redirects
The FRAME redirection works similarly to REDIRECT with the difference that it opens the destination address in the page frame, and the address of your domain remains on the address bar all the time

Redirects with "Splash screen"
Redirects with "Splash screen" involve displaying an intermediate page before actually redirecting to the target address. Such an intermediate page is displayed for a time defined in the settings, e.g. 5 seconds (visible countdown, which counts down the time until redirection)

Redirects via API
They rely on handling traffic e.g. from blogs or e-mails through an API interface. The functionality allows you to handle redirects as in the case of direct redirects of the 301lite system, but on an external server under a different domain

Dividing traffic
The 301lite system allows you to direct visitors to different language versions of landing pages with one link (shortcut). It is also possible to divide traffic in percentages between landing pages.

Parameter handling in url addresses
Variables sent in links from, for example, a mailing campaign containing google adwords parameters are transferred to the landing page. It is also useful when participating in affiliate programs where the affiliate ID is important. Parameter passing works for all kinds of redirects.

Detailed shortcuts statistics
The statistics 301lite collects for redirects include the number of hits for each variant of "shortcut", the addresses of referring pages for a given "shortcut", and the number of entries for a specific language.

Detailed referer statistics
Referrer statistics allow you to see which domains the traffic is coming from in a given period of time. In addition, for each domain, you can see from which specific subpages were entries, which categories, and from which language (visitor languages).

Detailed language statistics
Detailed language statistics show the number of "shortcut" calls due to the language of the visitors.

Anti-SPAM protection
This is a protection against counting unwanted traffic. If the request comes from an IP address that is on the list of SPAM sending addresses, the system will display a CAPTCHA verification form (reCAPTCHA) before redirecting.

Integration with Matomo (Piwik)
Integration with the Matomo system allows you to collect statistics on the number of "shortcuts" and the number of redirections to the target page. Additionally, information about users is collected, such as web browser, operating system or location.

Catching 404 errors
The function allows the visitor to be redirected to a predefined page instead of displaying a 404 error page.

Editing the .htaccess file
With the ability to edit the .htaccess configuration file, you can change the web server settings from the 301lite system without logging into the server using ftp or ssh.

Editing the robots.txt file
The system allows you to edit the robots.txt file, thanks to which you can easily manage access to the pages of indexing robots. Each target page address can be added to this file with a single click or you can edit the file manually.

Monitoring of destination addresses
Automatic monitoring of target page addresses (links) allows you to detect which pages have stopped working. Thanks to this, you can react quickly and, for example, redirect traffic to another page until the defect is removed.

404 redirect monitoring
Enabling the interception of traffic to non-existent pages (generating a 404 error page) enables monitoring of the availability of the page to which visitors will be directed instead of the 404 error page.

Anti-SPAM server monitoring
Monitoring the anti-SPAM server activity allows you to find out whether the server containing the list of IP addresses from which SPAM is sent is working properly.

Matomo system monitoring (Piwik)
Monitoring of the Matomo system activity allows you to find out if the system collecting detailed statistical data is available, so that in the event of a failure you can take appropriate steps.

The possibility of placing advertisements
For frame and splash redirects, ads can be displayed during redirection. Ads can be assigned to each category or each redirect (shortcut).

Built-in template editor
The template editor allows you to customize the appearance of the CAPTCHA page, frame redirect page and splash redirect page. For frame and splash redirect pages, you can define where your ads will appear.

Import from a .csv file
Redirects can be imported into the 301lite using CSV text files.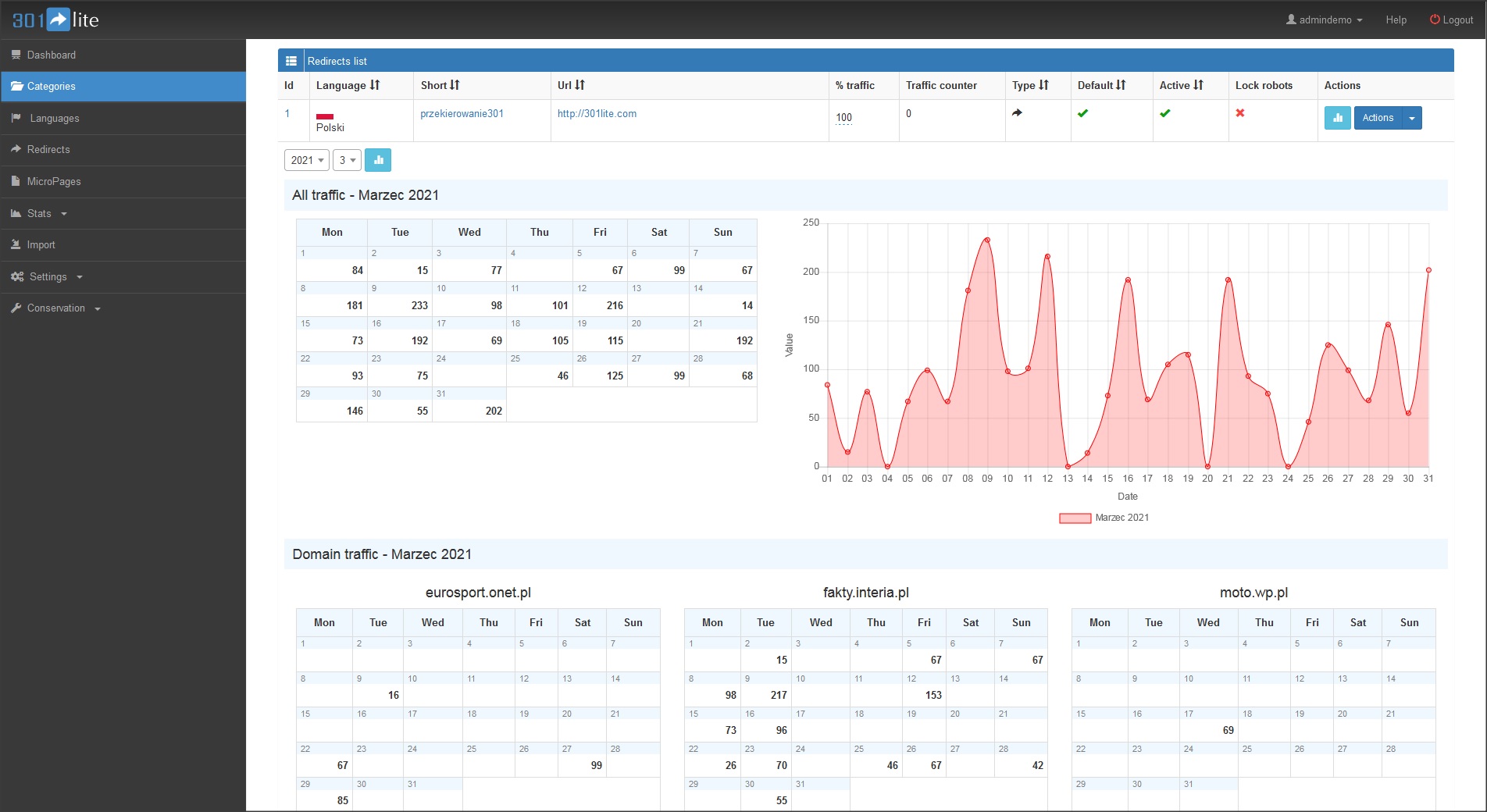 "We bought the 301lite system at the end of 2019. Since then, we have been running effective mailings and managing traffic on our newsletters. The option of sharing traffic is unique for us in this program, because we can test products or categories by assigning the right amount of traffic to a given Url. I can honestly recommend the 301lite application as a tool supporting link and traffic management.
Paul
We needed an application that would allow us to create shortcuts on our website, to which we direct users from various communication channels. With 301lite, we can create shortcuts within our domain and manage traffic by redirecting users to the appropriate categories or products.
Daniel
An amazing tool to help you manage links in affiliate networks. Now I divide the movement into appropriate categories and languages. Thanks to 301lite, I can quickly and efficiently switch traffic from any product to another, or divide the traffic into the appropriate %.
Michael
301lite app price list – Buy with a discount of -20%: enter the coupon code when you buy: promo20
LIFETIME
one time payment
no redirection limits

no landing pages limits

1 installation domain

one time payment
See the application on the demo version.
Ready to earn even more money with your 301?
If so, be sure to check out our app's demo version!